1949 Indian Arrow
Motorcycle location

:

Edgewater, Florida, United States

Sale type:
Private Seller
Last update:
21.08.2017
WARNING! BEWARE OF SCAMMERS!
MOTORCYCLE4SALE DOESN'T TAKE ANY RESPONSIBILITY FOR ANY SCAM ACTION.
BUY RESPONSIBLY!
Technical specifications, photos and description: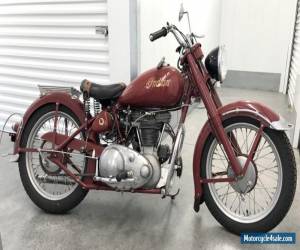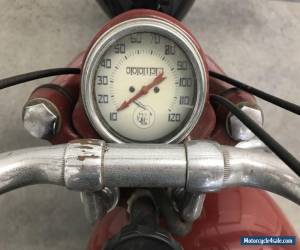 | | |
| --- | --- |
| Condition: | Used |
| Year: | 1949 |
| Mileage: | 13 |
| Exterior Color: | Indian red |
| Manufacturer: | Indian |
| Engine Size (cc): | 220 |
| Model: | Arrow |
| Vehicle Title: | Rebuilt, Rebuildable & Reconstructed |
| : | "Excellent restored condition ridden 13 miles only for testing newly rebuilt motor" |
| Got questions? | Ask here! |
1949 Indian Arrow for sale
Full restoration of Indian's last effort to modernize the brand and build motorcycle for younger buyer. This limited edition Arrow has been faithfully rebuilt with all original parts including most of the deluxe accessories that was offered for this model. Advertised as the world's most modern motorcycle, the 220cc Arrow and the 440cc Scout almost revitalized America's first motorcycle if the company's finances had been healthy. This beautiful representation is ready to ride or show. Engine has been rebuilt with limited competition parts to include; oversize domed piston and larger valves for greater compression. Inside engine case surfaces have been sealed and coated for smoother lubrication. The handlebars were left in original condition as the risers Indian used at the time were one piece requiring that they be pryed apart to be removed for chroming. Rather than risking the integrity of the strength by opening and closing, and the fact that these risers were likely to crack new chrome when reinstalled, they were left in original condition. The seat uses an original hard-to-find seat pan and chassis that has been recovered in fancy custom Indian pattern to enhance the bike's appearance.This is an excellent opportunity to own completed final piece of Indian Motorcycle history at very affordable price! Contact me if you plan to arrange your own shipping.
Other Indian motorcycles offered via internet auctions: