1953 Harley-davidson Fl Panhead
Motorcycle location

:

EUGENE,OR, United States

Sale type:
Private Seller
Last update:
15.11.2018
WARNING! BEWARE OF SCAMMERS!
MOTORCYCLE4SALE DOESN'T TAKE ANY RESPONSIBILITY FOR ANY SCAM ACTION.
BUY RESPONSIBLY!
Technical specifications, photos and description: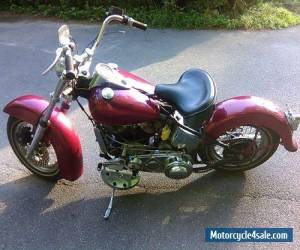 | | |
| --- | --- |
| Manufacturer: | Harley-Davidson |
| Model: | Panhead |
| Year: | 1963 |
| Mileage: | 99 |
| Exterior Color: | Red |
| Engine Size (cc): | 1,200||X |
| Got questions? | Ask here! |
1953 Harley-davidson Fl Panhead for sale
XXXX Harley Davidson FL Panhead. Matching belly #s, O-ring intake manifold conversion with a Bendix carburetor, cylinders and heads are in great shape without broken fins, and the exhaust spigots are also in good shape. Ratchet top X speed transmission. All housed in a Harley straight-leg frame. The frame neck has been modified, and the lock cylinder has been removed, but the sidecar hoops are still there.The sheet metal is all aftermarket. It is maroon with blue ghost flames. She starts and runs well but will probably need a battery. The electric is converted to XXV with a solid state regulator. Kick start Only. Pogo Seat. Front end is an aftermarket wide-glide unit with a disk front brake. Juice rear brakes. Some of the chrome is starting to show its age and there are some chips here and there in the paint. This is obviously a classic motorcycle that is over XX years old. It has not been on the road for the past few years but I fired it up last weekend. Titled as a XXXX Harley Davidson. I would encourage anyone that has serious interest in the motorcycle to come and see it in person prior to auction ending. Shipping will be the responsibility of the purchaser.
Other Harley-Davidson motorcycles offered via internet auctions: