1970 Harley-Davidson Touring
Motorcycle location

:

Saugerties, New York, United States

Sale type:
Private Seller
Last update:
24.10.2015
WARNING! BEWARE OF SCAMMERS!
MOTORCYCLE4SALE DOESN'T TAKE ANY RESPONSIBILITY FOR ANY SCAM ACTION.
BUY RESPONSIBLY!
Technical specifications, photos and description: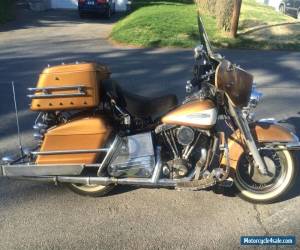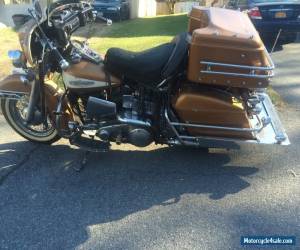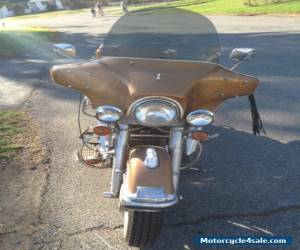 | | |
| --- | --- |
| Condition: | Used |
| Year: | 1970 |
| Exterior Color: | Gold/White |
| Manufacturer: | Harley-davidson |
| Engine Size (cc): | 1,200 |
| Model: | Touring |
| Warranty: | Vehicle does NOT have an existing warranty |
| Sub Model (Optional): | ElectraGlide |
| Vehicle Title: | Clear |
| Type: | King of the Highway |
| Mileage: | 62,000 |
| : | &ldquo |
| Got questions? | Ask here! |
1970 Harley-Davidson Touring for sale
The Ultimate Find!!! Better than barn find. one-owner, very original, classic!!!
XXXX Shovelhead FLH. The King of the Highway!!! Here's the history on this one...
recently purchased this bike from the Widow of the original owner who bought it new in Sept. of XXXX. He passed away just last year. And he rode this Shovel right up until his death. So because this bike never sat for decades as most finds do, she runs and rides right now!!! (See videos provided for more on this). And here's what makes this bike even more special... as XXXX it is Xst yr. cone Shovel, and last yr. pre-AMF buyout. (I know that when AMF took over, when they began assembling bikes, and when they began manufacturing parts of their own is all open to debate. But all of the research have been able to do leads me to believe that bikes manufactured prior to XXXX were not AMF bikes). Notice the tank badges, there is NO AMF in them. And what makes this already historically significant bike an even more rare find is that its one owner put every period correct accessory on it that he could. And because he was New Yorker who frequented Coney Island in Brooklyn, he did this in the Brooklyn Style which is known by collectors the world over for its eye appeal as it is over-the-top flashy. In fact this bike was something of celebrity in the biker community around Coney Island area in the XXXX's and XX's. Folks in the area called it the "Gold Bar" because of the flashy gold paint that it sports and because its owner dumped so much into accessorizing her!!! Check out the chrome deck on the back of this bike!!! Now check out all the chrome mounts and lighting!!! And everything works!!! Every light lights up!!!
In fact everything on this bike works as it should. (Again, see the videos of this bike running and rolling down the street). The only thing missing on this bike is the original radio system in the fairing, and the updated CD player has been taken out since the videos were made to make room for the new owner to put the stock one back in should they choose to. We have been able to locate several but have opted to leave this alone allowing the new owner to address this in whatever way they feel is best. The original carb is still working well though the original owner chucked the ham-can in favor of one that better fit the "bling" approach to accessorizing that he loved. And in fact it actually says "Shovelhead" on it. We think it looks pretty cool, as do all of his add-ons, minor modifications, and accessories. Other than that and the period correct XXXX's after market buddy seat she's an unmolested stock bike. I've had number of very knowledgable guys check her out, and we feel this bike is ORIGINAL PAINT though the white tank panels appear to have been resprayed somewhere along the line. So here's the skinny on this old girl...
~Harley Davidson XXXX FLH
~One owner bike since new
~Original paint
~All numbers match
~Clean NY paper
~King of the Highway Package
~All period correct accessories in the Brooklyn Coney Island style and all still work
~Offered for sale for the Xst time since new in Sept. XXXX
~New tires
~Good brakes
~Motor sounds tight, trans shifts smooth
~All fluids changed
~New battery (this is why chrome battery cover is not there in the videos. But it exists and is reinstalled on the bike).
Watch These Videos Below with Walk Around of Bike Running and one of it being Ridden
http://www.youtube.com/watch?v=UQ-OfpXRAvX&sns=em
http://www.youtube.com/watch?v=ooHXsoVHovI&sns=em
Face it guys, you can spend twice as much for some late model Road Glide and look just like everybody else at the bar, or you can buy this piece of rolling Harley history that sets you apart.
***This bike is available locally and reserve the right to end this listing early should it sell locally
*** $XXX.XX deposit due immediately at end of auction. Balance due via wire transfer or cash in hand within business days
***Sold as is/where is
***No warrantee implied or expressed
***Call with any questions before bidding. X(XXX)XXX-XXXX
***All shipping costs and arrangements are the responsibility of the winning bidder
***I am available to deliver this bike to local shipping point for reasonable fee to cover time and mileage if arranged ahead of time.
***Please feel free to make me reasonable offer, I'd like this bike to go to good home where it won't be chopped....
Other Harley-Davidson motorcycles offered via internet auctions: