2003 Indian Chief Vintage
Motorcycle location

:

Yorktown Heights, New York, United States

Sale type:
Private Seller
Last update:
1.10.2017
WARNING! BEWARE OF SCAMMERS!
MOTORCYCLE4SALE DOESN'T TAKE ANY RESPONSIBILITY FOR ANY SCAM ACTION.
BUY RESPONSIBLY!
Technical specifications, photos and description: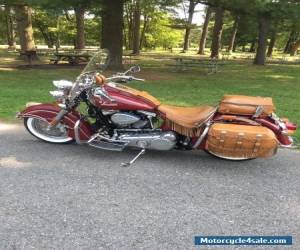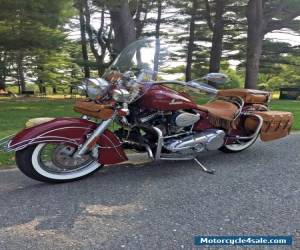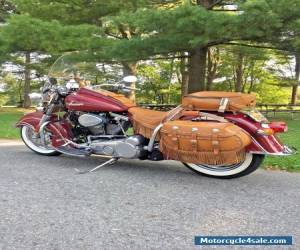 | | |
| --- | --- |
| Condition: | Used |
| Year: | 2003 |
| Mileage: | 28,000 |
| Exterior Color: | Red |
| Manufacturer: | Indian |
| Engine Size (cc): | 1,700 |
| Model: | Chief Vintage |
| Warranty: | Vehicle does NOT have an existing warranty |
| Sub Model (Optional): | Vintage |
| Vehicle Title: | Clear |
| Type: | Cruiser |
| : | &ldquo |
| Got questions? | Ask here! |
2003 Indian Chief Vintage for sale
XXXX Indian Chief Vintage power plus XXX cubic inchThe first motorcycle company since XXXX.
#XXX OF Less than XXX PRODUCEDMany now out of the US or taken apart for parts. Not many of these Gilroy era vintage chiefs are still around Very desired bike by collectors
SPECIAL EMBOSSED IDENTIFICATION PLAQUE RIVETED INTO FRAME FROM THE FACTORY
TRULY ONE-OF-A-KIND CHIEF THAT YOU WILL NOT SEE ANOTHER ONE LIKE ITIn XXXX last and ONLY year the vintage model was made for this era, the indian factory went bankrupt. XXXX was the first year for the reintroduction of the iconic Chief Motorcycle. XXXX was the last production year for the "Chief" and some forty-five years later the iconic Indian Chief was reborn. Built and assembled in Gilroy, California these XXXX to XXXX models were unique as only some models had numbered identification plaques built into and riveted to the frame as shown in the photo. Only less than XXX were made, This is XXXThe early Indians came from the factory with XXci S&S Engines and dry belt driven primary and when production ceased in XXXX only certain models came out using the XXXci power plus engines and wet chain driven primary.These Indians in my opinion just look more nostalgic then the new ones. The tear drop headlight and massive front end just sets them apart. do like the low seat height of only XXinches making the bike easy to handle. The Softail Style suspension with the hidden single monoshock underneath, give the bike the look of hardtail, but much better and more comfortable ride. This Indian starts with ease, runs out smoothly, and shifts well.The pull back handlebar makes it joy to ride with Plenty of power.I have taking this bike on road trips no problem, new tires and new lithium XXXcca battery is ready to go these bikes will only increase in value with time. Everything on it is factory with the exception of the buffalo leather bib over the tank and speedometer Lots of maintenance done to it and always the best fluids. Every accessory at the time of purchase was costly such as :-Chrome aluminum fender tips-Vintage cut windshield -Authentic chrome horn cover-War Bonnet billet chrome air cleaner-chrome cam covers, -polished aluminum trigger, rocker base/cover, coil over cover-chrome handlebar mount tachometer -gold plated Indian head fender ornament. -license plate frame -vintage chrome front and rear bumpers-Engine guard front and rear. -Ignition performance package-alarm system with clicker. -chrome seat single solo seat rail-leather rare and hard to find scoot boot luggage bag and tool roll original -polished aluminum luggage rackAnd more.
Specifications include:
Engine: FactoryInstalledType: Power plus Super Stock XX Degree V-Twin Cycle Carburetor primed with thunder heart electronic computer controller fire ignition coil. Bore stroke: X.XXX/X.XXCompression: X.X:X
Assembled By Indian Motorcycle in Gilroy, CADisplacement: XXX Cubic Inch (XXXXcc)Motor was redone at around XXk
Transmission: Constant Mesh, Foot Shift, hand shifter X-SpeedFuel System: Gravity Feed Exhaust System: X Into Chrome Style W/Indian Logo EmbossedPrimary Drive: Chain Driven-Wet ClutchFinal Drive: Belt Driven
DIMENSIONS AND WEIGHTS
Length: XXX"Seat Height: XX"Ground Clearance: X"/XXcmWheelbase: XX"/XXX cmFuel Capacity: X.X Gallon including X.X reserve U.S.Oil Capacity: X QuartsDryweight: XXXlb
WHEELS
Factory Brakes: Front: Piston brembo Caliper, BilletRear: X-Piston brembo Caliper, Billet
Tires: Front XXX/XX-XX" Rear XXX/XX-XX"
Wheels: XX Spoke Chrome Wire, Both front & RearXX"xX.X with new white wall tires. Original MSRP $XX,XXX US DYours for the right price Not in rush to sell.
Other Indian motorcycles offered via internet auctions: