2011 Harley-Davidson Touring
Motorcycle location

:

Alsip, Illinois, United States

Sale type:
Private Seller
Last update:
2.03.2016
WARNING! BEWARE OF SCAMMERS!
MOTORCYCLE4SALE DOESN'T TAKE ANY RESPONSIBILITY FOR ANY SCAM ACTION.
BUY RESPONSIBLY!
Technical specifications, photos and description: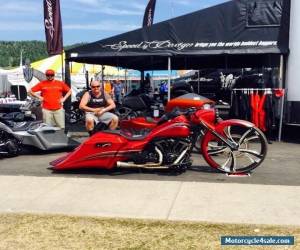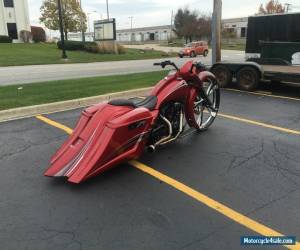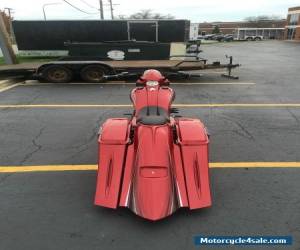 | | |
| --- | --- |
| Condition: | Used |
| Year: | 2011 |
| Mileage: | 36,805 |
| Manufacturer: | Harley-davidson |
| Engine Size (cc): | 1,685 |
| Model: | Touring |
| Vehicle Title: | Clear |
| Type: | Touring |
| : | &ldquo |
| Got questions? | Ask here! |
2011 Harley-Davidson Touring for sale
FOR SALE
OUR XX" ROAD KING SHOP BIKE BUILT BY US AT DA PERFORMANCE IN ALSIP, IL WE HAVE BUILT OVER XXX HARLEYS AND DO EVERYTHING THE RIGHT WAY.. NO SHORTCUTS OR HACK JOBS... WE HAVE WON MANY AWARDS AND MANY COVERS OF MAGAZINES. INCLUDING BADDEST BAGGER IN STURGIS XXXX. WE BUILT THIS BIKE THIS YEAR AND WAS AT SPEED BY DESIGNS BOOTH DURING STURGIS.... THIS BIKE NEEDS NOTHING AND RIDES LIKE STK BIKE. STILL HAS ABS, CRUISE, AND SECURITY.. BIKE HAS XXX MILES ON IT SINCE COMPLETE BUILD. CAN PUT THE CRUISE ON AT XXXMPH RIDES PERFECT AND STEERS STRAIGHT,,, BARS ARE WIRED COMPLETELY INTERNAL, NECK IS ALSO WIRED INTERNALY. CLEAN CLEAR TITLE IN HAND READY FOR DELIVERY!!! THIS WAS COMPLETE XXXX XXX" ROADKING BEFORE DISSASEMBLED FOR BUILD..
HERE IS PARTS LIST!!!
MISFIT XX" SHORT NECK AND TREESPERFORMANCE MACHINE FORK LEGS AND COW BELLSXTREME MACHINE PLATINUM CUT CRUZ XX" WHEELXTREME MACHINE PM XX" BIG BRAKE SETUPDA PERFORMACNE AND DIRTY AIR RIDE FRONT AND BACK (X" TRAVEL) VLAIR XXXC COMPRESSOR, ACCUAIR VUX VALVEBODY, STAINLESS TANK)WOOTEN RACING CUSTOM MADE COMPRESSOR MOUNT UNDERNEATH FENDERTRASK HANDLEBARS (DA FULL INTERNAL)RSD LEVERS AND MASTER CAPSXTREME MACHINE GRIPSMISFIT SHORT NECK NACCELLEXTREME MACHINE HEADLIGHT BEZELXTREME MACHINE FLUSH GAS CAP AND LED FUEL GAUGEHARLEY CUSTOM LED SPEEDODA STRETCHED FUEL TANK
DIRTY BIRD DASHSPEED BY DESIGN LONG BALLER STRETCHED BAGS, FENDER, SIDE PANELSSPEED BY DESIGN CUSTOM REAR TAIL LIGHTSHARLEY BLACK DAYMAKER LED HEADLIGHT
XTREME MACHINE SADDLEBAG LATCH COVERSARLEN NESS FLOOR BOARDS FRONT AND REARPERFORMANCE MACHINE BRAKE ARMS AND HEEL AND TOE SHIFTERSMRI ELECTRIC CENTERSTANDVOSS UPHOLSTRY CUSTOM SEATXTREME MACHINE VELOCITY STACKCMPMC STAINLESS STEEL EXHAUSTPOWER COMMANDER PCXALL COVERS ON ENGINE POWDER COATED GLOSS BLACK (ALL NEW GASKETS)MOTOR GONE THRU (SE XXX CAMS, NEW LIFTERS, OIL PUMP, TIMKEN BEARINGS)RWD STEEL FRONT XX" WRAP FENDERPOWDER COATED REAR WHEELCUSTOM $XK PAINT JOB FROM NSD PAINTWERKSCARL BROHOURD TURN SIGNAL BLOCK OUTS
TONS MOREU CAN NOT BUILD THIS BIKE FOR THIS PRICEANY QUESTIONS CALL PETE XXX-XXX-XXXX DA PERFORMANCE LLC
Other Harley-Davidson motorcycles offered via internet auctions: