Custom Suzuki Hayabusa GIA Enginnering
Motorcycle location

:

Perth, WA, Australia

Last update:
14.10.2017
WARNING! BEWARE OF SCAMMERS!
MOTORCYCLE4SALE DOESN'T TAKE ANY RESPONSIBILITY FOR ANY SCAM ACTION.
BUY RESPONSIBLY!
Technical specifications, photos and description: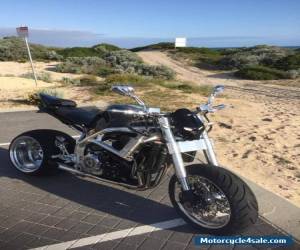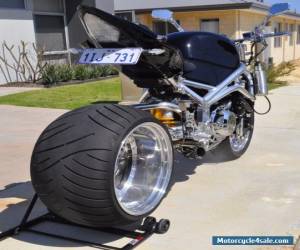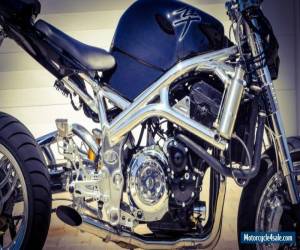 | | |
| --- | --- |
| Condition: | Used |
| Date of Manufacture: | 01/2006 |
| For sale by: | Private seller |
| Engine Capacity (cc): | 1,300 |
| Manufacturer: | Suzuki |
| Model: | Hayabusa |
| Date of 1st Registration: | 01/01/2016 |
| Gears: | Six-speed manual |
| Got questions? | Ask here! |
Custom Suzuki Hayabusa GIA Enginnering for sale
The bike has just been registered as XXXX Individually ConstructedVehicle (ICV) using the running gear out of my own stock XXXX Gen Busa.This build has taken over two years. mix of Australian, British andJapanese ingenuity and design. The custom rolling chassis, had built inEngland and imported to Australia. The bike battled through endless rules and regulations & brain-dead penpushers that make it almost impossible for something like this to happen. Noteven customs and imports knew of the rules regarding the importation of this.Anyway??¦??¦ It??™s here and finished!This entire rolling chassis is handmade, with world class TIG welding fromhead to foot.The welding was completed by Gav Goddard, owner of GIA Engineering(pronounced like Beer....GIA...) in Nottingham England. Gav is XX+ yearSpondon veteran and his team are also Spondon veterans of the same par.Spondon? Spondon used to build the greatest street-fighter frames the worldhas ever seen. There have been couple of copycat companies over the years(not mentioning any names) but none have even come close to the skills anddesign of what the Spondon boys can do. Spondon has folded, the factory has gone and the boys from there are now withGIA, once again producing the best custom street-fighter frames in the world. With my requests, Gav at GIA and Steve Taylor at Taylormade Wheels (Britishbike building legend) custom designed the frame, tank, swinging arm, rearsub-frame, forks, triple trees, brake calipers and wheels. The frame, tank,swinging arm and rear sub-frame are made from super strong fat tube lightweightaircraft grade XXXX series alloy that cannot be bought off the shelf. The triple trees are CNC??™d out of solid block and the forks areTaylormade??™s custom fat forks.Steve has built endless fat tyre bikes over the years and with my requestof ???Fat Tyres??? he advised of the best combination in terms of handling etc is aXXX rear with XXX front as many of his builds have proven. GIA Engineering England?· XXXX Custom XXXX seriesalloy street-fighter frame?· XXXX Custom XXXX seriessingle sided swinging arm with Ducati XXX hubs.?· XXXX Custom XXXX seriesalloy rear sub-frame designed for the arse end of XXXX Yamaha RX?· XXXX Custom handmade alloypetrol tank Taylormade Wheels ??" Wales UK?· Custom XXXmm & XXXmmDragster wheels.?· Custom pot front brakecalipers?· Custom CNC'd & X-inchtriple trees?· Custom Fat Yamaha RX forksForbes and Mills Engineering Perth, WA (GavinForbes) an engineering master! Drag bike builder/ engineer.Custom designed XXmm engine sprocket extension incorporating bearingsupport with an extended clutch slave cylinder setup, extended alternator andan extended gear shifter, all on the one plate with custom speedo sensorbehind the engine sprocket. Other stuff?· Nitrous Express Xlb drynitrous kit giving XXhp boost?· The bikes chassis length hasa X" extension from the stock Hayabusa.?· Aftermarket Yamaha RX Ohlin??™srear shocker?· Oil cooler bypass kitChromed XX' draghandle bars and risers, aftermarket hoses, chromed clear clutch casing, chromedspiked grips, chromed brake/ clutch levers & cylinders, chromed switchcovers, wavy discs, aftermarket billet Yamaha RX rear sets, extended braidedbrake and clutch hoses all round, blah blah blah.The bike comes with all manner of gear ??" Suzuki Bandit inch round twin headlights (E-marked),Hayabusa street-fighter belly pan, XXX wide front mudguard (unpainted), Singlesided paddock stand, XXXkg hydraulic bike lift (manual lift), Fat renthal barrisers, spare handlebars, XXXX RX rear footpegs, standard exhaust and all thestandard gear that the bike had to have fitted to pass the pits including thefront and rear mudguards with lights and reflectors, standard Busa clocks thatplug in with the bracket and fork clamps.The bike is more or less unseen, it poked its noseoutside twice (unpainted and unfinished) and took out best custom at the PerthJap Bike Show and won Best in Show and Best Modern at the York Bike Show. few magazines are showing interest in the bike, butthat??™s for the new owner to handle if they wish.I have van and could deliver interstate if costs are covered.On XX-Sep-XX at XX:XX:XX AEST, seller added the following information:There is nothing like this bike in Australia. Nothing even comes close to the raw engineering brilliance that this bike possesses. This bike is not for the weak or inexperienced.
Other Suzuki motorcycles offered via internet auctions: